What is a rain chain?


Rain chains have been around for centuries in Japanese gardens. They are an attractive alternative to a downspout, which gently allows rainwater to fall from your roof gutter down a copper chain to the ground.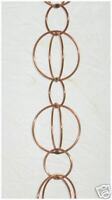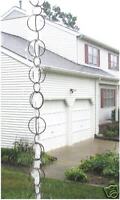 Why purchase a Rain Chain?

Rain chains offer you a great deal. Not only are they beautiful, but they also offer personality to your home or patio. Whether you are just looking for a copper accent to your home or garden decor, adding curb appeal, looking for a feature in a Zen garden or a water/ movement piece for Feng Shui, you can find all of this with a rain chain.
As the water flows down the chain, a lovely water feature is created before your eyes!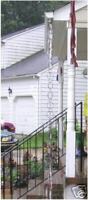 Do I need special equipment for a Rain Chain?

Not usually. Our rain chains, for example, are supplied with a small attachment piece. Simply remove your downspout & insert the attachment piece into the hole in the gutter.

Do I need a gutter on my house?

Yes you do, The Rain Chain isn't a water magnet, and just like any downspout, needs the gutter to gather the rain water and guide it to the chain.


Why Copper Rain Chains?

While we also make rain chains in brass, copper develops are gorgeous patina when left outside. First turning a dark penny brown, and eventually, as it reacts with the rain, it will turn a stunning verdigris green color (think of the Statue of Liberty!)


Where does the water drain to?

Many people just leave their chain hanging freely and allow the water to run off into the ground. You can also create a lovely feature below. For example, create a boxed area with an empty bottom and fill it with stones or pebbles, or even glass pebbles. Let the water flow down and drain through your stone trough. Another idea is to place a copper bowl below.


Maintenance
Rain chains need little maintenance, except checking your gutter for debris, as you would with a normal downspout.
If you live in an area with high wind storms or harsh heavy ice, we would recommend taking down the rain chain during winter and replacing your regular downspout. A heavy build up of ice could weigh down on your gutter and cause damage. Unless you are in a region like this, most people can leave their rain chains up all year round.
© TheMetalPeddler.com